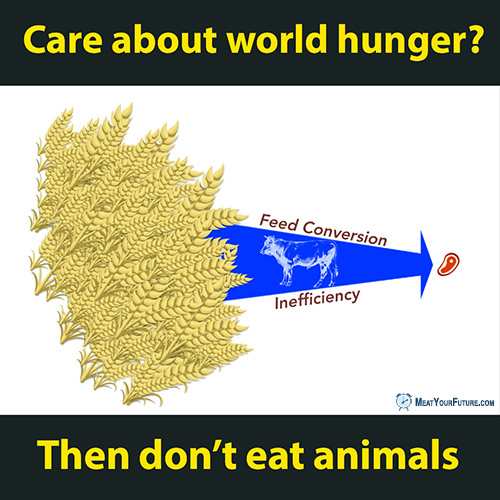 ---
There are many issues that contribute to world hunger, including geopolitical instability and distribution problems. But a significant overriding issue is that producing animal foods wastes a tremendous amount of calories and agricultural resources.
Why is that? Well, because animals eat far more food than they ultimately produce in the form of meat and other animal foods.
Of all the plant calories grown and used for the breeding and raising of "livestock" animals, we only recover a fraction (on average ~12%) in the form of meat and other animal products. So, overall, we're losing almost 90% of the calories going from plant foods to animal foods. This is what is referred to as "feed conversion inefficiency".
This is a critically important humanitarian issue, considering that nearly one billion people currently suffer from malnutrition due to lack of food. And this problem will only get worse as our human population continues to grow.
In fact, the University of Minnesota's Institute on the Environment calculated that, if we grew crops solely for direct human consumption, we could have 70% more calories available in the world, which could feed up to 4 billion additional people.
This, in addition to the overall unsustainable environmental footprint that livestock systems exert on the planet, makes consuming animal foods a massively irresponsible global affair.
As Mahatma Gandhi once said, "The world has enough for everyone's need, but not enough for everyone's greed".
We have enough resources to feed everyone on the planet, but not enough if people continue eating unsustainable and resource-depleting animal foods.
Please care enough for the planet, other humans and other animals to make the simple and easy adjustment of living vegan. It's the least we can do.
---
*Click here to view the above referenced study from the University of Minnesota Institute on the Environment (Redefining agricultural yields: from tonnes to people nourished per hectare).