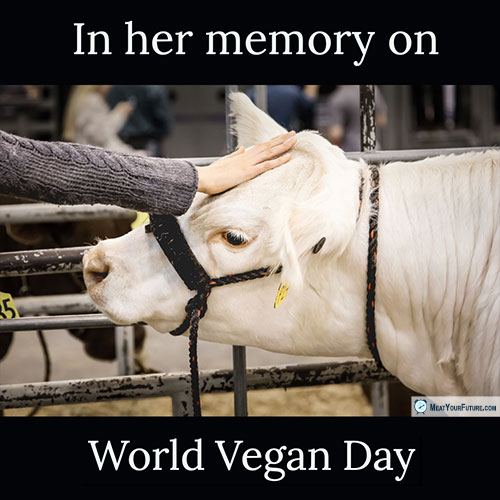 ---
Several years ago, we found our way into the Houston Livestock Show and Rodeo, which is apparently the largest indoor "livestock show" in the world.
Every year, animals are trucked into the city from miles away, and, for a full week, subjected to noisy crowds and auctions for humans to buy and sell their bodies and flesh.
We spent about an hour walking down aisle-after-aisle of cows, pigs and other animals, most of whom were roughly tied to fences, and clearly anxious, uncomfortable and frightened.
One of the individuals we saw there was this sweet cow, who immediately welcomed our gentle touch despite everything around her.
By now, she (like all the other animals there) has almost certainly met a premature and violent death amongst the stench and fear of a slaughterhouse.
But she was not a mere "thing" to treat as our property. And she most certainly was not ours to exploit, mistreat, slaughter, eat or wear. She was a sentient and innocent living being. They all were.
We remember her today on World Vegan Day 2018, as we also remember the countless billions of other nonhuman individuals who each year are unjustly exploited and killed.
---